Wet Acid Digestion System Buchi B-440 + B-412
Complies with IEC1010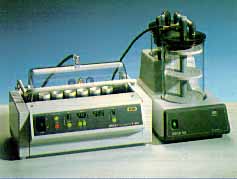 Wet acid digestion and sulphated ash determinations are procedures which are in common use in analytical laboratories, particularly in the pharmaceutical industry. These procedures, when carried out in open systems such as fume cupboards lead to corrosion of extraction systems and environmental pollution. This new Buchi system allows the procedures to be carried out in a closed environment in which acid fumes are extracted and neutralised via a scrubbing unit before clean air is released into the atmosphere. For sulphated ash determinations samples may be transferred to a muffle furnace for final high temperature ashing after all acid fumes have been removed.
The system consists of the new Wet Digestion B-440 and the proven Scrubber Unit B-412. The Wet Digestor allows up to six samples to be processed simultaneously in ceramic crucibles which are available in three sizes, 30, 55 or 95ml capacity.
The samples are enclosed in the glass fume extraction hood and are visible at all times; fumes are extracted and neutralised in the B-412 Scrubber Unit.
Crucibles are heated by means of a quartz halogen tubular lamp which can quickly achieve the maximum digestion temperature of 600°C. Up to nine different time/temperature profiles may be programmed and stored for repeated use. Each profile consists of five time/temperature steps with time units selectable in 1 minute intervals up to 240 minutes and temperature units selectable in 1°C increments up to 600°C. Program number, step sequence, time and temperature are digitally displayed on the control panel.
Systems are supplied complete with Wet Acid Digestor B-440, Scrubber B-412, condensate trap, Viton® connection tubing, ceramic plate, corresponding ceramic crucibles and operating instructions.