Jepson Bolton's International Catalogue
---
Nickel-Electro - Boiling Baths!
Circular Aluminium Baths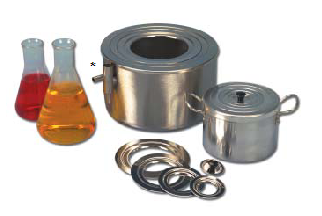 Fixed temperature baths with concentric ringed lids to vary the hole size. The steam produced provides an effective source of heat for samples that may be otherwise thermally damaged by a naked flame.
Round and Rectangular Style
All round and rectangular baths have an integral constant level device to regulate the lever of water.*
Supplied with a set of rings to vary the diameter of the hole in the lid.
Electrically heated baths have a class 1 over-heat protection device.
Supplied with a connector and power cord with plug.
The metal element collar ensures earth continuity to the outer case. All electrial baths are suitable for 230V, 50 - 60Hz operation.
Accessory energy regulator can be used for control between vigorous boil and gentle simmer.
---
Cat. No.

Dia x Depth

Hole Details

Heater, Watts.

Voltage

Gas Heated.

1020G

127 x 90 mm

125mm diameter

-

-

1021G

152 x 102 mm

150mm diameter

-

-

1026G

203 x 127 mm

200mm diameter

-

-

Electrically Heated

1026E

203 x 127 mm

200mm diameter

1000W

230V

1028E

252 x 152 mm

250mm diameter

1000W

230V