Jepson Bolton's International Catalogue
---
Hotplate, infra red, ceramic.
CR300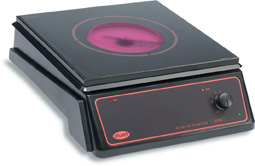 Very efficient heating saving time and energy
Chemically resistant ceramic top
"Hot" warning light for user safety

Using a very efficient infra red heater of just 900W power this hotplate will boil 1 litre of water over 30% faster than a conventional ceramic hotplate of 1200W. Ideal for heating large volumes of liquid.
---
Technical specification

Plate dimensions, mm 		300 x 300
Heated area, mm			140 diameter
Heater power, W          	900
Overall dimensions, (w x d x h)	300 x 365 x 105
Net weight, kg 			4
Electricity supply              230V, 50-60Hz, 900W
---
Ordering Information

Model	 Description             Cost
CR300	 Hotplate, infrared     -  £494.88

---
* To request further information please Email enquiry@jepbol.com