Pneuchange - Pneumatic Logic Cylinder Change Over Unit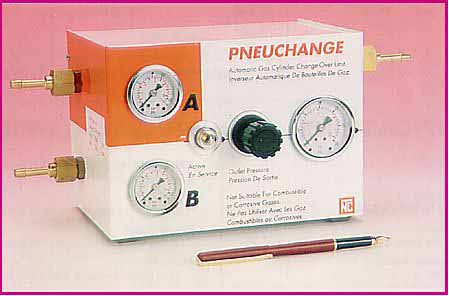 PNEUCHANGE is a completely new low cost system for automatic gas bottle change, maintaining continuity of gas supply where failure would be inconvenient, costly or dangerous.

Unlike previous small change over systems PNEUCHANGE is completely self contained and being non electrical can be installed anywhere in doors or out, fixed permanently to a wall or free standing on any horizontal surface.

PNEUCHANGE is suitable for all non corrosive, non combustible gases and is ideal for maintaining gas supplies to laboratory equipment such as incubators, anaerobic cabinets, fermentation apparatus etc. It is equally suited to industrial applications such as inert gas blanketing, food processing and gas supplies for beer and carbonated drinks dispensing equipment.

Inlet and outlet ports are brass 81 BSP male fittings of the type used on cylinder regulators and hence are compatible with the wide range of hose tails, compression couplings, valves and flow meters available for this purpose.

A high quality outlet pressure regulator and gauge is fitted allowing the operator to adjust precisely the outlet pressure to suit the application and to lock the selected pressure. Inlet pressure gauges show the status of the feed cylinders and a colour coded pneumatic indicator shows which cylinder is currently in service.

Cylinder change over takes place automatically and no manual resetting is required. Installation is simple, requiring no engineering skills, simply place the unit anywhere between the gas bottles and the equipment being served. Connect the cylinder regulators to the inlet ports and the outlet port to your equipment, your Pneuchange is ready for action.

Ordering information
Cylinder change-over units - Laboratory units for CO2 incubators.