Jepson Bolton's International Catalogue
---
FURNACES
Laboratory Furnaces Carbolite RWF series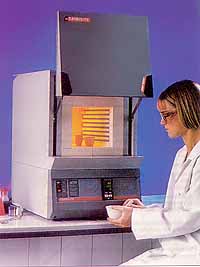 These furnaces are designed for light to medium duty where rapid thermal response is a primary requirement. The powerful free radiating coiled wire elements are situated in the sides and top of the work chamber which is constructed from rigidised low thermal mass insulation.

A hard, dust-free ceramic hearth provides a robust base for the furnace charge and the combination of low thermal mass insulation and high power heating elements gives a very rapid heatup rate from ambient to 1100°C in as little as 10 minutes. Rapid cooling can be induced by opening the furnace door during cool down. Servicing is facilitated by the removable instrument panel and easy access to element modules and thermocouples through the rear of the casing.

A vertical counterbalanced door mechanism keeps the hot door insulation away from the operator when the door is opened. The control module is situated below the door and provides a variety of control options depending on the model chosen. All versions have digital display of temperature and a choice may be made between a simple PID controller or more sophisticated proqrammable controllers.

The standard control module options are:

Eurotherm 91e PID controller, which displays both set and actual tempertures and includes one adjustable ramp to set point.
Eurotherm 808P Programmer, which in adds to the facilties of the 91 e to allow a total of two temperature ramps and two dwells to be set.
Eurotherm 902PX Programmer, which provides 8 ramps and 8 dwells with a simple operator interface and a sealed panel to IP65 specification.
Eurotherm 902 PC Programmer, which adds to the facilties of the 902PX in providing an RS232/422 interface via a sub-miniature D socket on the rear panel. Software packages for PC's are available.

Controllers available to special order (details on request):
Over-temperature protection can be provided as an option; this facility uses an additional controller with an adjustable temperature limit to shut down the furnace, to protect the furnace itself or the contained load.
Furnaces are available in three sizes each witha choice of two operating temperature limits.

Specification




Chamber volume ltrs      5               13                23

Thermocouple:

 1100°C                  Type K          Type K           Type K

 1200°C                  Type R          Type R           Type R

Dimensions:

 internal lxwxh mm       250 x 160 x 130 325 x 210 x 195  400 x 260 x 220

 external lxwxh mm       485 x 375 x 585 610 x 435 x 655  675 x 505 x 705

Weight kg                28              45               65

Electrical load max kW   2.75            5.0              9.1

Electrical requirements  240V 50Hz 1ph   240V 50Hz 1ph    410V 50Hz 3ph


Ordering information

                   Cap   Max temp Controller       supply
        Model     ltrs       C        type         V/phase      Each



F80-700  RWF11/5    5  1100   Digital control PID 201       240V/1ph          £1345.00

F80-702  RWF11/5    5  1100   Digital programmer 8 segments 2416cc  240V/1ph  £1305.00

F80-704  RWF12/5    5  1200   Digital control PID 201        240V/1ph         £1465.00

F80-706  RWF12/5    5  1200   Digital programmer 8 segments 2416cc 240V/1ph   £1705.00

F80-710  RWF11/13  13  1100   Digital control PID 201       240V/1ph          £1575.00

F80-712  RWF11 /13 13  1100   Digital programmer 8 segments 2416cc  240V/1ph  £1815.00

F80-714  RWF12/13  13  1200   Digital control PID 201        240V/1ph         £1430.00

F80-716  RWF12/13  13  1200   Digital programmer 8 segments 2416cc 240V/1ph   £1670.00

F80-720  RWF11/23  23  1100   Digital control PID 201       410V/3ph          £2155.00

F80-722  RWF11/23  23  1100   Digital programmer 8 segments 2416cc  410V/3ph  £2395.00

F80-724  RWF12/23  23  1200   Digital control PID 201        410V/3ph         £2090.00

F80-726  RWF12/23  23  1200   Digital programmer 8 segments 2416cc  410V/3ph  £2330.00


---
Tube Furnaces Carbolite
Tube furnaces are ideal for gas analysis, materials testing, ceramic firing, continuous strip heating and thermocouple calibrations In these furnaces the resistance wire heating elements are wound directly onto an impervious ceramic tube, providing fast response rates. The work space is the maximum possible, with the thermocouple sited outside the work tube close to the element. A Eurotherm 91 PID digital controller is fitted to all furnaces; this controller simultaneously displays both preset and actual temperatures.

A choice of 900°. 1000° and 1200°C versions is available.

Specification


Model                      MTF9/15   MTF10/25   MTF12/25   MTF12/38

Maximum temperature °C     900        1000        1200        1200

Heat-up to max -100°C mins 6.5        9           25          18

Furnace tube I x dia mm    180 x 15   150 x 25    450 x 25    300 x 38

Heated lengh mm            130        130         400         250

Uniform zone length mm     35         35          110         85

Ext dimensions lxwxh mm    180x90x180 175x150x265 375x450x375 375x370x430

Weight kg                  1.7        3.0         15          10

Heater load kW             0.3        0.4         1.0         1.0

Electrical requirements    240V 50Hz  240V  50Hz  240V 50Hz   240V 50Hz


Ordering information
F80-070 - Micro-tube furnace Carbolite model MTF9/15 - £675.00
F80-072 - Mini-tube furnace Carbolite model MTF10/25 - £690.00
F80-074 - Mini-tube furnace Carbollte model MTF 12/25 - £1035.00
F80-076 - Mini-tube furnace Carbolite model MTF12/38 - £1130.00
---
Economy Furnaces Carbolite ELF series 1000°C
Economy laboratory muffle furnaces with one-piece moulded ceramic fibre chamber and venting chimney. The heating elements are positioned in the sides and top of the vacuum-formed chamber, giving excellent heat distribution. A hard ceramic hearth tile is available as an accessory.

Temperature control options are either a CAL8000 analogue proportional controller with LED bar display or a Eurotherm 91 digital controller with full PID action and digital temperature display of both preset and actual values. Both svstems emPlov a tvPe K thermocouPle (NiCr/Ni/AI).

The furnaces have a short heat-up time and the low thermal mass insulation and double skin construction with air convection provides a low outer skin temperature. A safety switch disconnects the power when the door is opened .

Specification


Model                              E LF10/6         E L F10/14

Maximum temperature °C             1000             1000

Heat-up time to 900C min           < 12             < 13

Chamber volume Itr                 6                14

Dimensions internal I x w x h mm   200 x 180 x 165  300 x 220 x 210

Dimensions external I x w x h mm   410 x 410 x 5ao  520 x 450 x 630

Weight kg                          15               25

Heater load kW                     2                3

Electrical requirements            240V 50Hz        240V  50Hz


Ordering information
F80-162 - Economy furnace Carbolite ELF11/6 with digital PID controller - £655.00
F80-166 - Economy furnace Carbolite ELF11/14 with digital PID controller - £755.00

---
Accessories
F80-170 - Hard ceramic hearth tile for ELF11/6 - £29.00
F80-172 - Hard ceramic hearth tile for ELF11/14 - £29.00
---
* To request further information please Email enquiry@jepbol.com