Jepson Bolton's International Catalogue
---
Flame Photometer
Model 420 Dual Channel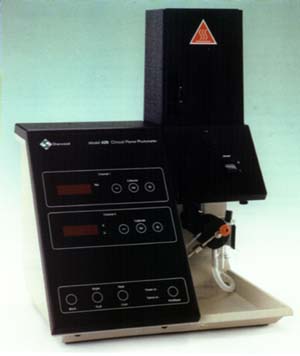 The Model 420 has been developed with the objective of improving the productivity and analytical performance of the laboratory when measuring sodium and potassium.
The time taken to set up and calibrate the instrument is much reduced, this is achieved by the automatic ignition and optimisation of the flame conditions.
In dual mode both sodium and potassium results are obtained simultaneously halving the measuring time.
The analytical performance is improved by the use of a Lithium Internal Standard signal which reduces any fluctuation in flame conditions, drift, and dilution errors.
The readings on both channels are linear over the working range of the Model 420.
There are several monitoring and control functions included in the software driving the Model 420, eg. measurements can only be made after Blanking and Calibration.
The Model 420 can operate in continuous or peak mode. In peak mode the Model 420 automatically detects a stable reading for transmission to a printer or computer. In Continuous Mode the display is real time and can be sent to the analogue output with or without ratioing to the Internal Standard Reference, or printed to the printer or a computer.
The date of analysis is printed at each calibration and the time is printed for each sample, QC and repeat samples are identified on the printout.
Sample dilution and presentation to the Model 420 of Clinical samples can be made automatically by the Sherwood Model 805 Diluter. No predilution of urine samples required for potassium.
---
Specification
Measured Ranges
| | | | |
| --- | --- | --- | --- |
| Clinical Sample | Element | | Industrial |
| Serum | Na | 100.0-199.9 mmol/l | 0-199.9 |
| | K | 1.00-9.99 mmol/l | 0-199.9 |
| | Li | 1.00-5.00 mmol/l | 1.0-199.9 |
| Urine | Na | 100.0-199.9 mmol/l | |
| | K | 40.0-199.9 mmol/l | |
| Linearity | Na & K | 2% over Full Range | |
| | Li | 10% over Full Range | |