Jepson Bolton's International Catalogue
---
Melting Point Apparatus - Advanced
SMP3
NOTE : This model has now been updated to the SMP30 model, shown

here.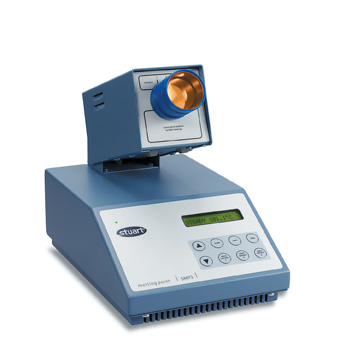 Maximum temperature 360ºC
Programmable heating rates
Melt temperature memory
Automatic cooling and user friendly display
Supplied with calibration certificate

Designed for fast and accurate measurement of melting points. The heating block accommodates up to three samples and incorporates a platinum resistance sensor for responsive temperature control.

A membrane keypad allows easy setting of the desired start temperature and heating ramp rates (fully adjustable from 0.5ºC to 10ºC per minute) in 0.1ºC increments. The user friendly backlit alphanumeric LCD display advises both the temperature and the specific stage of operation. Language is switchable between English, French, German, Italian and Spanish.

Clear observation of the samples and melt process is aided by a powerful magnifying lens and high intensity illumination. When measurements of melt are being made, the temperatures may be stored in the instrument's memory by pressing the storage buttons. The values can then be recalled at a convenient time. Once the heating cycle is completed, an integral air pump quickly cools the heating block so that the next series of tests can be commenced promptly.

Supplied complete with calibration certificate showing individual serial number for traceability.
---
Technical Specification

No of samples              - 3

Temperature range          - Ambient to 360ºC

Temperature resolution     - 0.1ºC

Temperature accuracy       - ±0.5ºC at 20ºC/±1.5ºC at 360ºC

Display                    - LCD

Sensor Platinum resistance - PT100

Ramp rates                 - 0.5ºC - 10ºC per min in 0.1ºC increments

Temperature memories       - 8 per tube

Dimensions (w x d x h)     - 180 x 260 x 300mm

Net weight                 - 3.2kg

Electrical supply          - 230V, 50Hz, 60W

---
Ordering Information

Model     Description                                             Cost

SMP3    - Melting point apparatus, complete with pack of 
          100 melting point tubes, closed at both ends            - £832.50 

SMP2/1  - Glass melting point tubes, closed at both ends,
          pack of 100                                             - £14.80 


---
* To request further information please Email enquiry@jepbol.com