Optional tier system available to increase capacity

These rockers have large platforms able to accommodate a number of samples, ideal for a busy lab. They are very quiet in operation and designed to be on continuously. Two models available: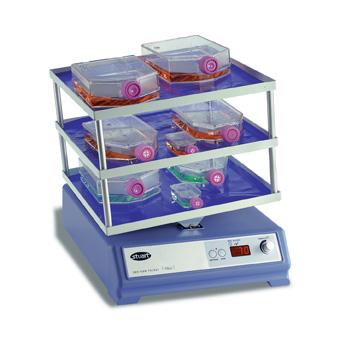 Model SSL3 provides a 3D gyratory motion, ideal for low foaming agitation, DNA extractions, staining and de-staining procedures etc. The angle of tilt can be moved to any position by hand to optimize mixing of vessels.
Model SSL4 has a see-saw rocking action that creates a wave motion within vessels such as culture flasks, Petri dishes etc.
Rockers are often used in conjunction with incubators and environmental chambers. Both units can be used in temperatures up to 40°C and humidity up to 80%. Both models are supplied with a non-slip mat and have digital selection of both speed and time making them very easy to operate.
An accessory tier system can be fitted in seconds, without the need for tools, tripling the available space for samples. Each tier is securely held in place by magnets.