Jepson Bolton's International Catalogue
---
PUMPS
Diaphragm Pumps Charles Austen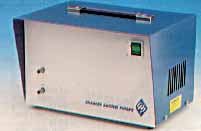 A range of oil-free diaphragm pumps which provides quiet and compact vacuum or pressure sources for air, gas and vapour applications.

The construction of these diaphragm pumps makes them completely oil-free; only the flexible diaphragm and pump inlet/outlet passages come into contact with the air or gas being handled.

They are ideal for the majority of laboratory duties requiring low vacuum, such as assisted filtration, and are a suitable replacement for the water jet pump in general applications.

Comply with IEC 1010 safety requirements for electrical equipment for laboratory use.
---
Diaphragm Pump Austen model L3C
A compact self-priming pump capable of handling mixtures of air and liquid. The pump is oil-free and therefore will not contaminate the medium being pumped.

The L3C is designed for continuous operation and can run up to 9000 hours without attention in normal operating conditions.

Specification


Flow rate max            1.25 ltr/min

Head max                 8.5 m

Dimensions l x w x h     280 x 180 x 210 mm

Weight                   5.2 kg

Electrical requirements  240V 50Hz


Ordering information
P76-380 - Diaphragm pump Austen model L3C £265.00
---
* To request further information please Email enquiry@jepbol.com