Jepson Bolton's International Catalogue
---
Waterstills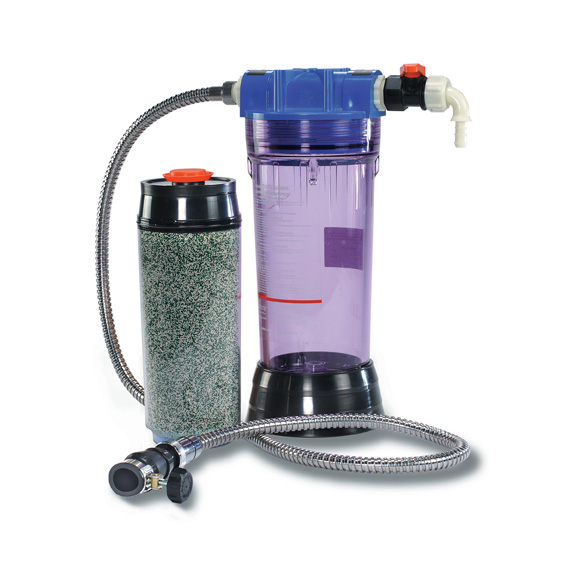 Deioniser, Aquatron®, ADH
Low cost disposable cartridges
Colour change indicates resin condition at a glance
Free standing or wall mountable
Ideal as pre-treatment for Aquatron® water stills

A simple, portable deioniser giving good quality water at an affordable price.

The disposable ion exchange cartridges slowly change colour from green to blue as they are exhausted giving at a glance indication of the resin condition. No need for conductivity meters, batteries or mains electrical power. Supplied complete with flexible hose for connection to a tap and a stopcock to control the flow rate.

Can be linked in series with the Aquatron® filter either by a flexible hose or the rigid coupling (ALC) available as an accessory. Ideal as a pre-treatment for Aquatron® water stills to prevent scale build up and improve output quality.

Housing and ion exchange cartridges must be ordered separately.
---
Technical Specification


Maximum flow rate, l/hr             60
Maximum water temperature, °C       40
Maximum water pressure, psi (kPa)   100 (700)
Output conductivity, µScm-1         <15
Dimensions, mm                      130 x 315

Ordering information
| | | |
| --- | --- | --- |
| Model | Description | Cost |
| ADH | Deioniser housing | £208.80 |
| ADI | Ion exchange cartridges (pack of 3) | £148.50 |
| AFD | Wall mounting bracket | £41.40 |
| ALC | Coupling to connect to Aquatron® filter unit AFH | £33.30 |