Jepson Bolton's International Catalogue
---
Magnetic Stirrers with Hotplate.
CB162 & SB162
Choice of robust aluminium or chemically resistant ceramic tops
Advanced safety features:

     - Flashing 'Hot' warning light
     - Spillproof design
     - Independent safety circuit to protect against overheating
Microprocessor control for accurate temperature setting

Stylish and economical general purpose stirrer hotplates designed with safety as well as performance in mind. The cast aluminium body is shaped for stability and helps deflect spills away from the controls and the user. The 'Hot' warning light will flash whenever the plate temperature is above 50°C even when the hotplate is turned off and connected to the mains. Independent safety circuit prevents overheating in the event of control failure and internal electronic components are protected against corrosion. Powerful magnets and motor give stirring speed up to 1500rpm and volumes up to 15 litres *.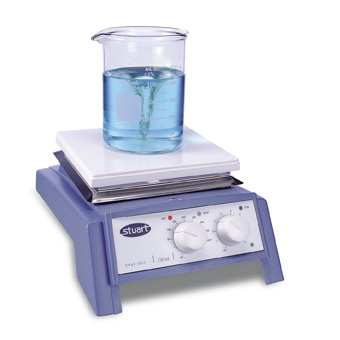 Model CB162 has a glass ceramic top which has excellent chemical and temperature resistance. The surface is easy to clean and the thermal properties allow very high plate temperatures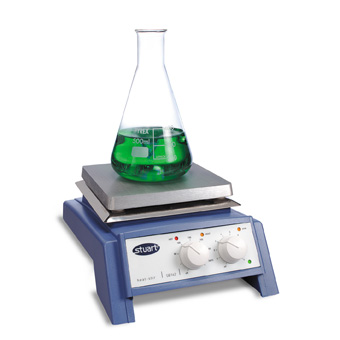 while ensuring the edges stay cooler, reducing the chance of accidental burns. The white surface ensures good visibility of colour changes.
Model SB162 has a robust aluminium/silicon alloy top plate for good heat transmission. A 700W element gives rapid heating and ensures even temperature distribution across the whole of the plate.
Fitting for retort rod and supplied with 2 x 25mm PTFE coated stir bars.
---
Technical Specification

                                    CB162               SB162
Plate material                      Glass ceramic 	Aluminium/silicon alloy
Plate dimensions, mm                160 x 160 		160 x 160
Heated area, mm                     120 x 120           160 x 160
Heater power, W                     500                 700
Max. plate temp. °C                 450                 325
Stirrer speed, rpm                  100 to 1500         100 to 1500
Maximum stirring capacity, litres * 15                  15
Overall dimensions (w x d x h)      190 x 300 x 110 	190 x 300 x 110
Net weight, kg                      3.4                 3.4
Electrical supply                   230V, 50Hz, 750W 	230V, 50Hz, 550W
---
Ordering Information

Model 	Description                               Cost
CB162 	Stirrer/hotplate, ceramic plate,          - £259
SB162 	Stirrer/hotplate, aluminium plate,        - £249.75
SR1     Retort rod, 600mm x 12mm diameter         - £18.50

---
* To request further information please Email enquiry@jepbol.com