Jepson Bolton's International Catalogue
---
WATER STILLS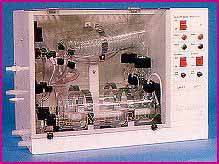 Hamilton Aquamatic and Cabinet water stills
The Hamilton range of water stills provide all the answers to pure water requirements. High quality glassware, advanced design together with minimum maintenance combine to provide a product that will give reliable service for years.
All stills are protected by safety feature giving failsafe operation without supervision.
Alternative low-cost metal heaters or high purity silica sheathed elements are available.
Cabinet stills can be either bench mounted, wall mounted or used as an island unit
with the Hamilton 25 litre reservoir.
Continental 110 volt heaters can be supplied.
---
Cabinet water stills
Visual fow control valve sets water input for maximum efficiency and cut power if water supply fails

Funnel inlet for descaling and flushing boiler without dismantling apparatus

Constant level device

Screwthread connectors for easy assembly, maintenance and leak free operation
Double coil condenser for maximum output with low temperature distillate
Electrical specs meet B.S. and International standards
Stove enamelled casing incorporates hinged perspex front cover for easy access.
Ordering information
WSC/4 - 4 litres per hour cabinet still - metal heater - £1290.00
WSC/4S - 4 litres per hour cabinet still - silics heater - £1410.00
WSC/8 - 8 litres per hour cabinet still - metal heater - £1870.00
WSC/8S - 8 litres per hour cabinet sill - silica heater - £2230.00
WSC/4D - 4 litres per hour Double Distillation cabinet still - 4 silica heaters - £2230.00

---
ACW - Aquamatic water stills
Aquamatic range fully automatic cabinet water stills. Have all the features listed above of the cabinet still but in addition feature
Solenoid valve to shut off water supply if electricity fails

Pressure swith shuts off water supply when reservoir is full

Indicator gives visual warning when reservoir is full, cutting out all power and water to the still.

Ordering information
AWC/4 - 4 litres per hour Aquamatic still - metal heater - £1450.00
AWC/4S - 4 litres per hour Aquamatic still - silica heater - £1550.00
AWC/8 - 4 litres per hour Double Distillation Aquamatic still - 4 silica heaters - £2170.00
AWC/8S - £2460.00
AWC/4D - £2460.00

---
WSE Economy water still
Provides the same performance as four litre cabinet stills.

The still features a high quality boiler and condenser distillation unit mounted on a stove enamelled metal chassis with all electrics in a metal housing.

Ordering information
WSE/4S - £700.00

---
WSB Budget water still
Hamilton budget water stills have been produced to meet educational requirements.

The still is a basis low cost unit that will give four litres per hour of distillate but still retains safety thermostatic cut out and high quality glassware.

Ordering information
WSB/4 - 4 litres per hour - £520.00

---
WSS Vertical water still
A double spiral condenser is mounted on a spherical boiling chamber with a flexible joint.

Water flow is controlled by a constant level device. Heaters feature built in thermostatic cut out. A sturdy metal bracket is provided enabling stills to be either bench or wall mounted.

Ordering informartion
WSS/4 - 4 litres per hours - £620.00
WSS/8 - 8 litres per hour - £1020.00

---
Complete water still and reservoir unit
All cabinet water stills can be supplied as a complete unit mounted on a hamilton 25 litre reservoir ( add prefix RS/25 to catalogue No).

Existing customers Hamilton cabinet water stills can be fitted to reservoirs but must be reurned to factory for fitting. Aquamatic stills can be fitted to any type of resevoir and do not have to be returned to factory for fitting.

Ordering information
RS/25 - 25 litre reservoir - £730.00

---
* To request further information please Email enquiry@jepbol.com